Al Motley, Chair
Al Motley is Chief Technology Officer of Matchbook Learning, a nonprofit charter management organization. Mr. Motley oversees the company's and schools' IT hardware, software and instructional technology design and implementation needs. Al leads the identification and deployment of new tools and platforms to achieve the organization's academic mission. He also develops systems, supports, and trainings to maximize staff and student daily technology use to support all academic goals. Over the past few years Al has lead the work at Matchbook to build a next generation competency based platform called Spark. This platform allows organizations to deliver personalized instruction, content and classroom workflows in a scalable framework. Prior to joining Matchbook Learning, Al served the same capacity for Touchstone Education, a leading blended charter management organization based in Newark, NJ.
Prior to Touchstone, Al was the Director of Information Technology at Mastery Charter Schools, a turnaround charter management organization in Philadelphia, PA. He was also a Vice President at Monarch Consulting, which provides technology solutions for small business, education and nonprofits. Al is also a Pahara Institute NextGen Leader.
Al got his start in education technology from Pennsylvania State University, while working as a computer lab consultant at PSU's Center For Academic Computing. As a student working for the university he identified early on the need for technology to support the academic needs of a student and faculty in order to accelerate learning.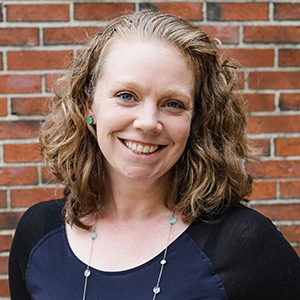 Beth Rabbitt, CEO
Beth Rabbitt is CEO of The Learning Accelerator (TLA). An expert in blended and personalized learning, Beth brings deep experience in education entrepreneurship, talent development, consulting, and finance. She is based in New Jersey, where she lives with her husband and two young daughters. As a parent, she is inspired daily and urgently to make schooling better meet the needs of every child, everywhere.
Prior to becoming CEO, Beth was a Partner on the organization's start-up team. In the organization's first phase she led national strategies for developing human capital and for researching emerging teaching and learning models and practices. Before joining TLA, Beth was a Doctoral Resident and the Director of Human Capital at Touchstone Education, an Associate Partner at the NewSchools Venture Fund, a consultant to and with Education Resource Strategies, and the founding Doctoral Fellow at the Harvard Innovation Lab. Beth began her career in education as research fellow in educational neuroscience and as a director of environmental education for an urban youth program in Massachusetts.
Beth serves on the board of several education nonprofits, including the Highlander Institute, Catalyst:Ed, and InnovateEDU. She earned a B.A. from Dartmouth College and a Doctorate in Education Leadership (Ed.L.D.) from Harvard University.
Gwen Baker
Gwen Baker is Bellwether Education Partners' Chief Operating Officer and serves as a senior adviser with the Strategic Advising practice area. She has over 15 years of experience in education reform and focuses primarily on the uses of technology to advance ambitious goals.
Before joining Bellwether, Gwen was CEO and Co-Founder of CoreSpring, Inc., a nonprofit whose mission is to provide the field with access to high-quality formative assessment content and digital authoring tools. Prior to CoreSpring, Gwen worked at NewSchools Venture Fund, where she led the organization's portfolio data collection and analysis efforts as well as its community of practice work. Before NewSchools, Gwen served as Director of Knowledge Management at New Visions for Public Schools, the largest school reform organization in New York City. Gwen also worked at Teachscape, Inc., where she served as Vice President of Teaching and Learning and Senior Vice President of Operations. She began her career at Andersen Consulting (now Accenture), working with clients to build performance-based and simulated learning solutions.
Gwen holds a Master's degree in learning sciences from Northwestern University and a Bachelor's degree in corporate communication from Ithaca College. She lives in New York City.
Helayne Jones
Helayne Jones is an Education Consultant specializing in education strategies in innovation, personalized learning, scaling and sustaining non-profits, and leadership. She is a Senior Strategy Advisor to New Profit, a national venture philanthropy fund. Prior to that, she served as a Senior Program Officer at the Bill & Melinda Gates Foundation, developing and implementing innovation and personalized learning strategy. Prior to joining the foundation, Jones was the President and CEO of the Colorado Education Initiative (CEI). As the leader of CEI, a dynamic, growing organization, Jones drew on 15 years of expertise gained as an education consultant, her experience as a college professor, and her previous work as a marketing executive. Her consulting experience includes work with, for-profit and not-for-profit education firms, school districts and education foundations in Colorado and throughout the country to focus on systems change resulting in improved student outcomes for all students. She also has extensive experience with private-sector and nonprofit organizations to facilitate strategic planning, board communications, and managing the impact of change.
Jones has been an active philanthropist and community leader. She currently serves on the board of Leap Innovations and The Learning Accelerator. Her past board involvement includes the Boulder Valley School Board for eight years, serving four of those years as Board President; past trustee of the Rose Community Foundation, past chair of the Health Committee and the Education Committee. She served as a member of Governor Hickenlooper's Education Leadership Council and a board member of the Boulder Community Health Foundation.
Prior to consulting, Jones spent three years as an adjunct professor at Iona College in New Rochelle, NY, and 12 years in the technology industry including several executive marketing positions at Wang Laboratories.
She received her doctoral degree in educational administration from the Columbia University Teachers College with an emphasis on school reform. She received a Master's degree in English from the University of Massachusetts and a Bachelor's degree, Honors College, from the University of Michigan.

Cary Matsuoka
Cary Matsuoka is Superintendent of the Santa Barbara Unified School District. Superintendent Matsuoka has been a lifelong learner in both formal and informal settings. He studied nutrition science at UC Davis and also received his teaching credential there. He earned his master's degree in educational administration from San Jose State University. Along the way, he taught himself computer science and cabinetmaking, mostly by tinkering and learning-by-doing. He has a passion and talent for design and has applied those skills to the design of creative learning spaces in schools and the structure of school organizational systems.
In addition, Superintendent Matsuoka is a lifelong educator. He spent 17 years as a teacher, mostly in a high school setting and 20 years in administrative leadership roles. He taught chemistry, physics, and AP computer science at Saratoga High School in the Silicon Valley area. After he went into administration, he served as a high school assistant principal, district coordinator, high school principal, and finally superintendent. He has over ten years of experience as a superintendent in two districts: Los Gatos-Saratoga High School District and Milpitas Unified School District, and recently was named superintendent for Santa Barbara Unified School District.
Nikolaus Namba
Nik is a Partner at Transcend. He has spent his entire career in education as a teacher, academic coach, principal, and leader in school districts and charter organizations focused on personalizing learning using a competency-based systems approach. Nik maintains a strong track record of successful and committed leadership focused on serving learners first. Prior to Transcend, he was the Director of 21st Century Learning for Lindsay Unified School District, where he was engaged in the system-wide transformative work of building a learner-centered, performance-based system. At Lindsay, Nik led several exciting projects focused on defining personalization, increasing staff capacity to deliver personalized curriculum, refining the community's WiFi project to ensure Lindsay families were provided access, hardware, and installation free of charge, and developing and future-visioning the district's learning management system. Prior to this leading role at Lindsay, Nik served as the principal of a K-8 school for the district.
Before his time at Lindsay Unified, Nik worked as Chief Academic Officer of Ingenium Schools, a charter management organization in the Los Angeles area, where he led a grassroots development of a system-wide, personalized, and competency-based learning approach. Prior to this, he was an academic coach and a teacher in the Westminster 50 school district in Colorado. Nikolaus holds a Master's degree in educational psychology from the University of Colorado at Denver and a Bachelor's degree in liberal studies from California Lutheran University. Nik currently lives in the Los Angeles area with his wife, son, and daughter.
Matt Noble
Matt Noble is the President of EF Explore America, where he works with K-12 educators to develop and execute experiential learning programs outside the classroom in destinations across North America. Over the past decade, he has served in a variety of leadership roles within EF Education First, including heading up business units in the U.S. and Canada, building product development and educational partnerships teams, and spearheading digital transformation efforts.

Prior to EF, Matt worked in a number of education-focused startups beginning in the late 1990s. He was an early employee at Revolution Prep, where he managed the development and growth of Revolution's e-learning offerings addressing SAT/ACT preparation, California High School Exit Exam intervention, Algebra Readiness support, and more. In particular, he worked closely with districts, schools, and educators in systematically underserved communities to implement some of their earliest edtech efforts with a focus on adoption, educator support, and student outcomes.

Matt holds a Bachelor's degree in government from Harvard University, and an MBA from Harvard Business School.
Marina Ballantyne Walne, Former Board Member
Dr. Walne is currently CEO of EduStart LLC, a consulting practice specializing in start-up education and philanthropy ventures. Most recently she was Vice President for Education at the Laura and John Arnold Foundation.
From 2005 to 2010, Dr. Walne was Executive Director of the Institute for Public School Initiatives at The University of Texas (U.T.) System, an organization dedicated to improving college readiness, access, and success that worked directly with 220 school districts in Texas to implement about $80 million in grant-funded initiatives. She has over 35 years of experience in education, including Director of Admissions at Rice University, Founding Head of The John Cooper School, Women's Athletic Director at St. John's School, and policy consultant to the Texas Governor's Business Council working on early childhood, science, reading, teacher quality, and charter school initiatives.
Through her consulting business that she started in 1995, Dr. Walne assisted the American Productivity and Quality Center in the development of its education initiatives, six organizations creating new schools including U.T. Austin's elementary charter school, and U.T. System's development of TRACK, online learning modules aligned with the Texas high school standards. She was a consultant to the U.S. Department of Education from Dec 2001- Dec 2004, working with the Senior Advisor and the Senior Counselor to Secretary Rod Paige on special projects including revising the No Child Left Behind Blue Ribbon School Award Program. Dr. Walne holds a B.A. degree with distinction from Stanford University and a Master's and Ph.D. in education administration from Stanford University. She is a graduate of the American Leadership Forum Houston Chapter and has served on numerous nonprofit boards in Texas.
Kelly Cutler, Former Board Member
Kelly Cutler is a Partner at New Profit, a national nonprofit venture philanthropy fund whose mission is to break down the barriers that stand between people and opportunity in America. Kelly has experience as an executive and consultant in nonprofits and business, with skills in developing people, leading teams, setting strategy, fundraising, and conducting due diligence on investment opportunities. Kelly currently leads the Innovation Fund at New Profit, a fund focused on identifying and catalyzing the best social impact organizations in America. Previously, as a Partner on the Portfolio Team, Kelly led New Profit's investment strategy and selection process and provided deal support to UnboundEd, Turnaround for Children, Eye to Eye, and Peer Health Exchange.
Kelly came to New Profit from L.E.K. Consulting, where, as a Consultant, she made strategic decisions alongside business leaders in retail, financial services, aviation, and private equity. Prior to business school, Kelly served as the Director of Development at Families First, an organization that nurtures children by supporting and educating parents and Director of Development at Teen Voices, a mentoring program for Boston girls. Her international experience includes studies at the Indian School of Business and working with International Development Enterprises in Vietnam. Kelly holds a Bachelor's degree in English from Boston University and an MBA from the Tuck School of Business at Dartmouth.
Scott Ellis, TLA Founding CEO
Scott is an experienced nonprofit CEO and COO with deep experience in strategy, operations, supply chain management, and strategic finance. Scott currently serves as Executive Chairman at Open Up Resources and previously served as the founding CEO of The Learning Accelerator. He is the founder and CEO of MasteryTrack, an online mastery-based dashboard system. He previously served as the Chief Strategy Officer and Chief Operating Officer of New Teacher Center (NTC), a large national education nonprofit that works with school districts to develop and implement intensive instructional mentoring programs for new teachers. Scott has also served on the board of trustees for Reading Partners and the Spondylitis Association of America, in addition to providing guidance and support to dozens of other organizations. Before joining NTC, Scott spent nearly eight years at Hewlett Packard, where he managed an internal analytical consulting organization that helped the various HP businesses make better data-driven decisions. Prior to joining HP, Scott was a consultant at McKinsey & Company. He has an MBA from Stanford and an undergraduate degree in government and economics from Harvard.
Gisèle Huff, TLA Co-Founder
Dr. Gisèle Huff is the executive director of the Jaquelin Hume Foundation in San Francisco.
She is a founding member of the Board of Directors of The Learning Accelerator and serves as a member of the Board of Directors of iNACOL. She is a member of the Advisory Board of Education Reimagined and a member of the Advisory Board for Harvard University's Program on Education Policy. She served as a member of the advisory committee for the National Charter School Research Project at the Center on Reinventing Public Education, and of the Executive Committee of the Digital Learning Council. She was a founding member and served as chairman of the Board of Directors of the Clayton Christensen Institute for Disruptive Innovation, as chairman of the Board of Directors of the Center for Education Reform, and as a member of the Board of Directors of the State Policy Network.
Joe Wolf, TLA Co-Founder and Strategic Advisor
Joe is the founder of The Learning Accelerator and is the current Chairman of the Board and Co-founder of Imagine Worldwide, as well as the founder and a board member of Open Up Resources. Joe has held board positions for The Learning Accelerator, Summer Search, the Clayton Christensen Institute, New Classrooms, and NewSchools Venture Fund. He was formerly a Partner at RS Investments where he co-managed a team that grew $100 million in assets to over $12 billion. Prior to RS, he worked at Goldman Sachs Company. Joe holds a BA from Vanderbilt University and an MBA from Harvard Business School.