Beth Rabbitt, Chief Executive Officer
@BethRabbitt
Beth Rabbitt is CEO of The Learning Accelerator (TLA). An expert in innovative learning models, Beth brings deep experience in education entrepreneurship, talent development, consulting, and finance. Prior to becoming CEO, Beth was a Partner on TLA's startup team leading national strategies for talent development and for researching emerging teaching and learning models and practices.
Before joining TLA, Beth was a Doctoral Resident and the Director of Human Capital at Touchstone Education, an Associate Partner at the NewSchools Venture Fund, a consultant to and with Education Resource Strategies, and the founding Doctoral Fellow at the Harvard Innovation Lab. Beth began her career in education as an education neuroscience research fellow and as a director of environmental education for an urban youth program in Massachusetts.
Beth serves on the board of several education nonprofits, including Catalyst:Ed and InnovateEDU. She earned a B.A. from Dartmouth College and a Doctorate in Education Leadership (Ed.L.D.) from Harvard University.
Beth is based in Maine where she lives with her husband and two elementary-age daughters. As a parent, she is inspired daily and urgently to create powerful learning experiences that better meet the needs of every child, everywhere.
Personal pronouns: she/her/hers
Samantha Artukovich, Associate Director, External Relations
Samantha Artukovich is an Associate Director, External Relations at The Learning Accelerator. Her multi-faceted background in psychology and communications converged to bring her to organizations committed to enhancing the educational experience for students. Samantha helps maximize TLA's reach and impact through effective communications and thoughtful engagement processes.
Prior to joining TLA, Samantha worked for Capital Region BOCES, where she collaborated with rural and suburban K-12 districts in New York to manage and tailor communications practices, drive community engagement, and plan accessible websites and digital materials. Samantha also brings a background in higher education to the team, having worked around the country in areas ranging from alumni relations at Pitzer College to student counseling at the University of La Verne and communications at St. Lawrence University. She holds an undergraduate degree in psychology from St. Lawrence University and a Master's degree in the same field from the University of La Verne.
Samantha is based in the Los Angeles area, and in her time outside of TLA, Samantha is typically doting on her dogs, learning languages, writing creative fiction, and catching up on the latest musical releases from Japan.
Personal pronouns: she/they
Faith Burns, Operations Associate
Faith Burns is an Operations Associate at The Learning Accelerator. Her background in public policy research and program implementation has fostered a commitment to supporting the operational needs of dynamic, impactful, mission-focused nonprofits. At TLA, Faith ensures that the team has the operational support and processes in place to achieve TLA's mission and build a thriving organization.
Before joining TLA, Faith was an Analyst at Maycomb Capital's Community Outcomes Fund, an impact investment fund dedicated to aligning public spending on human services with meaningful outcomes for children and families. While at Maycomb, Faith worked in deep partnership with nonprofit human service providers, government agencies, and other community stakeholders to maintain and expand evidence-based programs. Prior to that, Faith worked as a policy research intern at The Commonwealth Institute for Fiscal Analysis (TCI) in Richmond, Virginia. At TCI, Faith supported quantitative analyses and qualitative research on state spending and policies impacting low- and moderate-income Virginians. Faith has also supported research and grant proposal development as an economic development intern at the Manhattan Borough President's Office.
Faith graduated from Emory University with a Bachelor's degree in economics and a minor in African American studies. She is originally from New York and recently moved to Portland, Maine with her fiancé, where they're enjoying the outdoors and eating lots of seafood.
Personal pronouns: she/her/hers
Violet Ford, Associate Partner
@DrViFord
Violet Ford is an Associate Partner, Research and Measurement at The Learning Accelerator. As an experienced researcher and practitioner, the body of her work has been centered around equitable learning systems and college and career preparation in underserved communities. Violet has a multifaceted professional portfolio in implementation research, program operations, and professional learning development. She is most passionate about supporting leaders and practitioners through continuous improvement practices to implement innovative and effective learning systems for all students.
Prior to joining TLA, Violet worked for six years as the Director of Education and Program Compliance for the Urban League of Greater Oklahoma City, Inc. where she led their Education & Family Development initiatives focused on college and career preparation, digital equity, mentoring, STEM, and service learning. Violet has also provided consulting for various organizations in leadership development, talent management program design, and strategic planning.
Violet holds an Ed.D. in Entrepreneurial Leadership in Education from Johns Hopkins University, an M.Ed. in Urban Education from Langston University, and a B.S. in Public Health from University of Central Oklahoma. She resides in Midwest City, OK with her husband; together they have five children. She enjoys music, spending time with family, and all things artsy.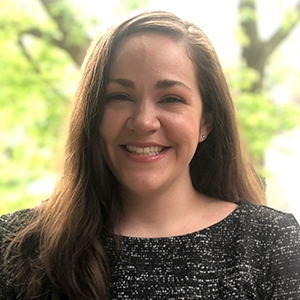 Lacey Gonzales, Communications Coordinator
Lacey Gonzales is the Communications Coordinator at The Learning Accelerator, where she bridges her background in journalism and media relations to bolster TLA's communications and external relations work. Lacey works across the TLA team to support information and content dissemination as well as fuel the organization's social media presence.
Before joining TLA, Lacey held various roles in communications. Within the journalism field, she was an economic development reporter at the Yale Daily News and a copyeditor at the Hürriyet Daily News, leveraging writing and editing skills in those roles. Lacey also brings experience in media relations to TLA as a former media relations intern at the Center for Women and Families, a domestic violence and rape crisis center in Louisville, Kentucky. She also served as a communications intern for the New Haven, CT Office of Public Information, where she composed press releases and communications. Previously, Lacey was also a marketing intern at Yale University Press.
Lacey graduated from Yale University with a Bachelor's degree in political science, focusing on the Middle East and Arabic. While at Yale, Lacey volunteered as a community health educator, where she taught high school students about healthy relationships and partner abuse.
She is based in St. Louis, MO, and outside of her time at TLA, enjoys long-distance running, cooking adventurous vegetarian meals, and exploring hiking opportunities around the area, in addition to spending time with her boyfriend and four cats. She is excited to bring her commitment to all students receiving an equitable education to TLA.

Michael Ham, Associate Partner
@ItsMrHam2U
Michael Ham is an Associate Partner at The Learning Accelerator. An experienced educator and alumnus of the U.S. Department of Education (ED) Office of Educational Technology (OET), Michael brings a wealth of knowledge in technology integration, instructional leadership, and national ed tech policy to the TLA team. Michael is passionate about decreasing the distance between practitioners and sector leaders to promote equitable, practical education reform.
A 2020 Education Pioneers Impact Fellow, Michael's work at OET focused on promoting digital media and information literacy, developing digital learning guidance for educators and school system leaders, and technology-integrated educator coaching. Prior to this fellowship, Michael served as a sixth, seventh, and eighth grade math teacher in Jacksonville, Florida's Duval County Public Schools (DCPS), where he began his career as a Teach For America Corps Member. HIs time in the classroom was highlighted by recognitions as model teacher for innovation and school improvement, Florida High Impact Educator, and finalist for DCPS 2020 Teacher of the Year. Additionally, he has served as an instructional leader, coach, and mentor through several programs with both Teach For America and the Jacksonville Public Education Fund. Michael holds a Bachelor's degree in economics and political science from the University of North Carolina at Chapel Hill.
Michael is based in Charlotte, North Carolina. Outside of work, he enjoys training for open-water marathon-distance swimming competitions, maintaining a daily yoga practice, and traveling with friends.
Personal pronouns: he/him/his

Beth Holland, Partner
@brholland
Beth Holland is a Partner at The Learning Accelerator and leads our work in research and measurement. For the past several years, she has been examining the challenges of equity and communication within K-12 public school systems for her dissertation, as a postdoctoral research fellow at the University of Rhode Island, where she worked on a project funded by the U.S. Department of Education's Ready to Learn Initiative, and at the Consortium of School Networking (CoSN) where she led their Digital Equity and Rural initiatives. From these experiences, she brings both a rigorous academic background and practical experience to the team's research efforts.
Prior to joining TLA, Beth worked for six years as an instructor with EdTechTeacher, where she designed and implemented professional development workshops and blended learning courses with K-12 teachers across the country and abroad. Before that, she served as the Director of Academic Technology at St. Michael's Country Day School in Newport, RI. Beth is also a prolific author and public speaker. She publishes a regular column for Getting Smart and has had her work featured on Edutopia, MindShift, and EdSurge, as well as scholarly journals.
Beth holds an Ed.D. in Entrepreneurial Leadership in Education from Johns Hopkins University, an Ed.M. in Technology, Innovation, and Education from Harvard University, as well as a B.S. in Communications from Northwestern University.
Currently based in Newport, RI, Beth lives with her husband and two crazy canines. When not working, she can be found sailing or stand-up paddling around Narragansett Bay and the New England Coast. Beth's lifelong dream is to someday be a Muppet. She believes that nothing could be more rewarding than dedicating her life to educating the world's children - and being a furry monster would be fun, too.
Personal pronouns: she/her/hers
Jin-Soo Huh, Partner
@JinSooDHuh
Jin-Soo Huh is a Partner at The Learning Accelerator. He is an experienced educator and school innovation leader and has expertise in school design, education technology, professional development, and personalized learning. He believes strongly in the power of collaboration and works to connect people in the education space to solve problems collectively. Jin-Soo is exploring ways that TLA can partner with instructional material providers to create more effective and equitable tools that support innovative models of education.
Prior to joining The Learning Accelerator, he spent over a decade as a math teacher and school system leader. He supported the implementation and scaling of models that incorporated blended and personalized learning at innovative school networks including KIPP Chicago and Distinctive Schools. As a teacher in Prince George's County Public Schools, he served on the teacher leadership team that supported the implementation of one of the country's first schoolwide 1:1 iPad programs. He also co-founded the Data Whiz community of practice that convenes school-based data practitioners from across the country to share best practices and collaboratively tackle pain points. Most recently, he consulted with national education organizations in developing resources for educators and identifying trends. He writes about innovation in schools as a columnist for EdSurge.
Jin-Soo earned a B.A. from Duke University in Public Policy and Political Science and a M.Ed in Elementary Education from George Mason University.
Jin-Soo is based in Chicago and enjoys watching musicals, playing tennis, and exploring the city's restaurant scene.
Personal pronouns: he/him/his
Jilliam Joe, Senior Research Advisor
As a researcher and field leader, Dr. Jilliam Joe provides critical advising and ongoing support for TLA's design of measures and evaluation approaches to ensure continuous improvement of teaching and learning and the advancement of equitable K-12 education solutions. She is an experienced psychometrician and program evaluator with a demonstrated history of working in nonprofit and startup environments. Jilliam is the founder and president of the consultancy Measure by Design and has served as the Vice President of Learning Insights at Leap Innovations and an Associate Research Scientist at ETS. She earned her Ph.D. in Assessment and Measurement from James Madison University, an M.S. in Urban Studies from the Strome College of Business, and a B.S. from Old Dominion University.
Personal pronouns: she/her/hers
Nate Kellogg, Partner
@nkellogg
Nate Kellogg is a Partner at The Learning Accelerator. With a decade of experience working in schools, Nate brings a wealth of knowledge in educational technology, innovation, design thinking, and professional learning to the team. He is passionate about the ways in which technology and innovation can lead to more equitable schools.
Prior to joining TLA, Nate spent four years as Director of Personalized Learning for ReNEW Schools, a charter network in New Orleans. In this role, he led all personalized and blended learning initiatives, from implementing the state's first Summit Learning Program to designing competency-based professional learning programs and managing the network's one-to-one laptop initiative. Beyond ReNEW, Nate has organized teachers across the city of New Orleans through collaborative professional learning, including co-founding New Schools for New Orleans' Personalized Learning Teacher Fellowship. Before joining ReNEW, Nate spent six years teaching in public, charter, and independent schools, beginning as a Teach for America corps member in DC Public Schools. Nate earned his Bachelor's degree in rhetoric from Bates College and his Master's degree in special education from George Mason University.
Nate serves as a board member for Rooted School New Orleans. He recently moved with his wife and their son to Middletown, RI, leaving their beloved New Orleans to be closer to family.

Personal pronouns: he/him/his
Roshni Lakhi, Special Projects Consultant
@roshnimirchi
Roshni Lakhi is a Special Projects Consultant at The Learning Accelerator. Roshni brings a range of skills to the organization, including deep educational experience as a founding teacher at an urban charter school, educator coaching and professional development facilitation, technological skills, and graphic design knowledge.

Prior to joining TLA, Roshni was a Program Manager at the Highlander Institute, leading the organization's operations in New York. Her role focused on the development and dissemination of personalized learning best practices in urban districts through teacher coaching. She launched the SyraFuse Fellowship, a teacher leadership development program in the Syracuse City School District, and EdTechRI, a community initiative to foster partnerships between educators and entrepreneurs through meetups and pilots. She also brought the first Startup Weekend Education and Girls Who Code to Rhode Island. Prior to joining Highlander Institute, she taught middle school math in Providence and piloted blended learning at her school. Roshni was named a PBS Digital Innovator in 2014, a CoSN NextGen Leader in 2016, and an ISTE Ignite Young Educator in 2018.

Roshni earned a B.S. in Business Administration from Northeastern University and specialized in marketing, finance, and social entrepreneurship. Roshni lives in New York with her family but remains true to her Massachusetts roots and is a diehard Boston sports fan. She is currently raising her son to understand the importance of supporting the Red Sox while living in New York.
Rashida Kimbrue Major, Associate Partner
As an Associate Partner, Programs, Rashida Kimbrue Major connects systems leaders and practitioners with robust and innovative resources used to accelerate student learning. She is excited to leverage her commitment to improving schools through deep relationships, data, and responsive programming. She is passionate about closing the opportunity gap through policy, particularly in urban areas.
Rashida comes to TLA by way of The Chicago Public Education Fund, where she most recently worked as a Manager, Program & Investments, ensuring that schools leaders were able to cross-pollinate ideas and share promising practices. She also served as an Education Pioneers Fellow for the New York City Department of Education with the Office of Interschool Collaborative Programs, where she worked with schools to identify and share best practices across New York City's five boroughs.
Through these varied positions, she became extremely interested in ensuring students and educators have access to necessary resources. In each of her roles, she learned that systematic change is essential to overall growth in communities and progress in education.
Rashida earned her Bachelor of Science in Business Administration from Hampton University and a Master of Arts in Public Relations from Full Sail University in Florida. She lives in Maryland with her husband Josh and daughter Malone, and she enjoys spending time with family and friends, as well as volunteering.
Personal pronouns: she/her/hers

Larayne Maycole, Executive Assistant to the CEO
Larayne Maycole is the Executive Assistant to the CEO at The Learning Accelerator. In her role, she serves as the right hand to the CEO and manages executive integration across the various levels, teams, and work streams of the organization. Larayne brings over 20 years of experience supporting C-suite leadership in both Executive Assistant and Chief of Staff capacities. Larayne graduated from Stratford University with a Bachelor's degree in business administration.
Larayne lives in Maryland with her daughters. In her free time, she enjoys reading, listening to podcasts, and practicing yoga. She is deeply passionate about abolishing systems that uphold systemic racism, patriarchy, and colonialism.
Jessica Mayorga, Managing Director, External Affairs
Jessica Mayorga is Managing Director, External Affairs at The Learning Accelerator (TLA). An expert in branding, engagement and developing winning marketing and communication strategies, Jessica has significant experience working in nonprofit, education and government spaces engaging diverse audiences and facilitating strong organizational partnerships. Prior to joining TLA, Jessica served as the Vice President of Marketing and Communications at Stand for Children where she oversaw a multifaceted national marketing and communications program and helped to launch multiple new programs and products of Stand while also sharpening the organization's brand.
In her professional and personal commitment to Diversity, Equity and Inclusion as well as civil rights, Jessica has also served as Senior Director of Innovative Marketing & Events at UnidosUS (formerly National Council of La Raza) and a mayoral appointee for the City of New Haven where she was the city's Director of Communications. Additionally, Jessica has worked in communications roles for the National Waste and Recycling Association, Community Partners Initiative and the National Board for Professional Teaching Standards.
Jessica is proudly a native Washingtonian of Cuban, Colombian, and Chinese descent. Jessica resides right outside of Washington, D.C. with her two young daughters, husband, and very spunky 91-year-old grandmother while her son Jax, who has significant special needs, resides in Florida to attend a special school that meets his needs.

Personal pronouns: she/her/hers
Stephen Pham, Managing Director, Organizational Operations, Culture, & Health

@stephenqpham
Stephen Pham is a Managing Director, Organizational Operations, Culture, & Health at The Learning Accelerator. An experienced educator and systems leader, he brings expertise in blended and personalized learning, school design, adult learning, and data systems. At TLA, Stephen leads the organization's initiatives around diversity, equity, and inclusion, data and analytics, and organizational learning.
Before joining TLA, Stephen led school model innovation, instructional pilots, and blended learning implementation as the national Manager of Personalized Learning at Rocketship Public Schools. In his tenure, he built data systems to support blended learning and helped the network launch 4 schools across the country. Stephen started in education as a fifth-grade STEM teacher and Teach for America corps member, also serving as a BetterLesson Blended Learning Master Teacher and leading his grade level in a flex model pilot. Stephen earned a B.S. in biophysics from the University of California, Los Angeles.

Stephen is based out of Portland, OR, and enjoys reading, being active and in nature, and traveling any chance he gets.
Personal pronouns: he/him/his
Alumni
ELLIE AVISHAI, JACK.ORG
CHRIS BORUNDA, LONG BEACH UNIFIED
JOHN BRANAM, GET SCHOOLED
BIANCA DÁVILA, ONEAMERICA
LISA DUTY, INNOVATION PARTNERS
SCOTT ELLIS, MASTERYTRACK
JULIANA FINEGAN, VIVI
JEREMY JONES, MAINE CHARTER SCHOOL COMMISSION
KIRA KEANE, CONSULTANT
MICHELA MARINI, CONSULTANT
CEDAR MATHIS, OPEN UP RESOURCES
SARO MOHAMMED, CONSULTANT
DANIEL OWENS, CONSULTANT
LUIS RODRIGUEZ, ENROLL OAKLAND CHARTERS
ASHLEY SANDVI, BUILDING IMPACT
ALEX TERMAN, CONSULTANT
NITHI THOMAS, CONSULTANT
MAGGIE THORNTON, EDUCATIONAL RESEARCH SECTION, PRINCETON SCHOOL OF PUBLIC AND INTERNATIONAL AFFAIRS
NANA UDOYEN, RALLY
JENNIFER WOLFE, CONSULTANT
LING ZHANG, CENTER FOR RESEARCH ON LEARNING; CENTER FOR INNOVATION, DESIGN, & DIGITAL LEARNING, UNIVERSITY OF KANSAS